Oklahoma is the latest state to enact a state-wide tracking system for all cannabis products. Announced on September 19, 2020, all marijuana plants and products will be tracked by Metrc — a national cannabis regulatory company. One of the benefits for cannabis operators of the Oklahoma Medical Marijuana Authority (OMMA) signing this new contract with Metrc is that their system integrates with many seed-to-sale software systems— like GrowFlow — to ensure that the entire cannabis life cycle is safe and legally compliant.
Learn about the fundamentals of seed to sale, why it's important, and how the right software can save you time and money in our free guide.
While seed to sale tracking in Oklahoma currently involves submitting a simple report every month to OMMA, once the Metrc system is used, operators will be required to report more activities and on a daily basis to Metrc. This isn't the first time that GrowFlow has helped customers smoothly transition to a new state system. GrowFlow helped customers in Washington transition from BioTrack to LeafData and in California to Metrc.
How GrowFlow helps cannabis wholesalers and retailers stay compliant:
Certified integration with Metrc means automated reporting of activities in GrowFlow to Metrc
Most importantly, GrowFlow enables cannabis businesses to stay compliant by integrating with the software that their particular state uses to track everything from seed to sale. For example, Oklahoma is expected to use Metrc in six months to track all cannabis plants and products in the state. GrowFlow seamlessly integrates with Metrc. Wholesale operators can report their activities directly to Metrc through GrowFlow in real-time, using a workflow that matches their real life workflow. For retailers, when they use GrowFlow Retail at their shop, their compliance data is always up to date in Metrc. This is a game changer for busy operators who don't want to spend unnecessary time going through paperwork or reporting their sales manually to stay legally compliant.
Simple product labeling
State requirements change all the time, and Oklahoma's recent engagement with Metrc is just one example. Starting in 2019, all cannabis products in Washington had to display the state's universal marijuana symbol.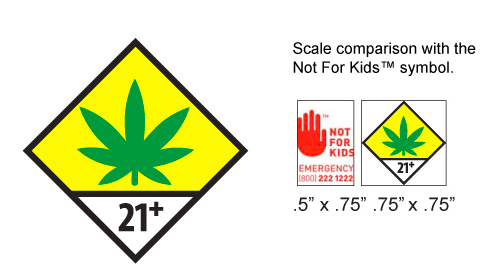 At the same time, information about harvest date, "best by" date, and manufactured date became optional on labels in Washington. Changes to legal label requirements are a hassle for wholesalers. Changing labels costs manufacturers time, money, and the headache of changing their processes. GrowFlow allows you to automatically generate compliant labels for every item and every order. Drag and drop tools let you create label templates that can be as simple or complex as you want, and can include universal symbols with just a click. This system makes updating labels to stay compliant super simple.
Automatically create manifests
Each state has different requirements for shipping cannabis products. In California, the Medicinal and Adult-Use Cannabis Regulation and Safety Act (MAUCRSA) requires all licensed distributors that are arranging the transportation of cannabis to create a detailed shipping manifest which includes information on the shipper, the licensee receiving the products, the date and time of shipment, the delivery driver's license number, and much more. Manually creating these compliance manifests can be a bottleneck. GrowFlow satisfies all of this compliance reporting for the sales process by automatically generating compliant manifests for each order, including driver information and directions. GrowFlow also gives you valuable sales tools, like invoicing and order tracking, as well as integrations with accounting tools like Quickbooks Online.
Metrc's partnership with Oklahoma indicates a growing pattern of states adopting state-wide traceability systems, such as Metrc, to ensure operators are in compliance. As more states vote on cannabis legalization or other states partner with regulatory solutions to track compliance, cannabis seed to sale software like GrowFlow will be vital for helping cannabis businesses remain compliant while also growing their businesses.